I was working for CBS in Los Angeles and sharing an apartment with WVU chum Bettina Altizer when the phone rang one day. Recent calls from men who wanted to inquire if I liked to "swing" had made us cautious. Bettina answered, listened for a few moments, put her hand over the receiver and said, "It's some guy who says his name is…" she rolled her eyes "…Russell Sunshine."
"Oh yeah," I said, reaching for the phone, "Jane said he might call." Jane Shetler, daughter of Harriet who'd helped me find my first overseas adventure, had been working in India. She'd got in touch to say she was sending an American friend my way, so we could share our Indian experiences. Three years later, we were married.
Knowing we wanted to continue to live and work in developing countries, we each applied for several overseas positions. Our plan was to accept the first good opportunity that also held potential for the other spouse to find productive, fulfilling work. When Russell was offered a post as Acting Legislative Counsel to the East African Community (EAC) in Arusha, Tanzania, we were told there would be ample in-country possibilities for me. So we gladly hopped a series of planes to Kilimanjaro Airport.
I brought along a portable manual typewriter — invaluable with airmail paper so thin it was called "onionskin." Here are edited excerpts from letters I wrote home during our early months in East Africa.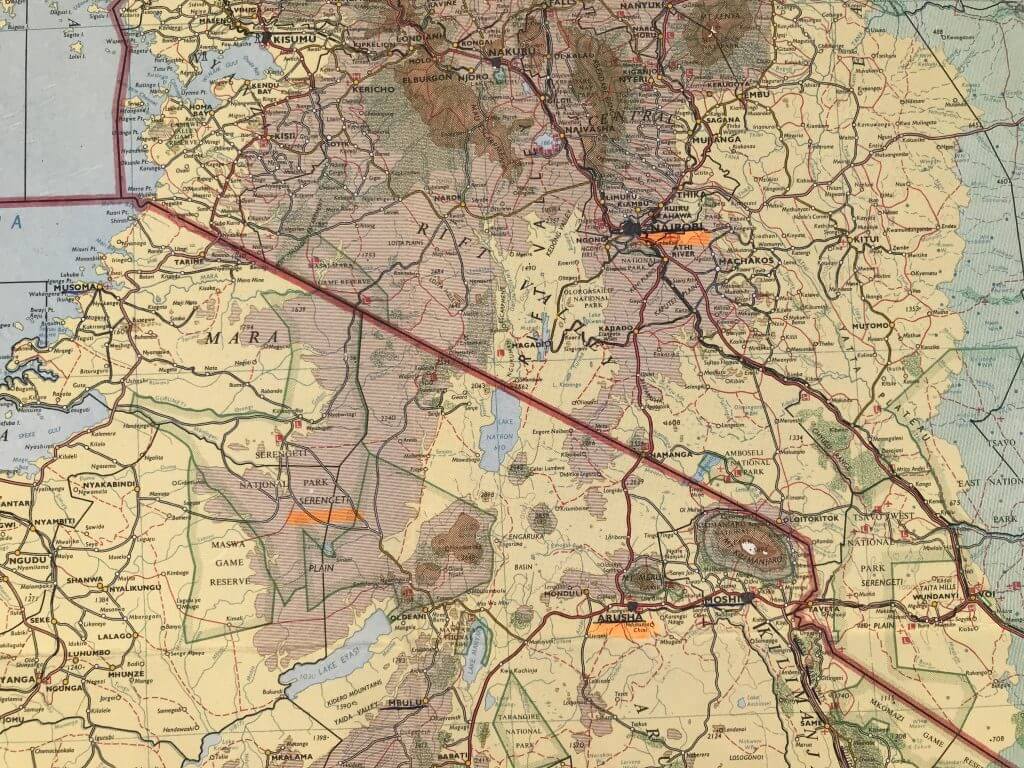 November 5, 1973
Inevitable glitches, but all's well. We're currently living in Arusha's best-but-modest hotel for 3-4 weeks, because the quarters assigned to us aren't vacated yet. That family is due to leave c. Dec. 1. Because of the housing shortage, we were assigned to their bungalow before their departure to ensure we'd have a place to live.
The house is 9 miles outside Arusha in a village called Tengeru. We've driven by in our rental car, and it's lovely — white, one-story, red tile roof, living room oriented for a view of Kilimanjaro.
We've already met a lot of expatriates. There are Americans, Europeans and Asians working for both the EAC and private enterprises. Last night we attended a barbecue, fireworks and dance in honor of Guy Fawkes Day at Lake Duluthi. In addition to EAC technical advisors, we met a coffee planter who's been here 25 years, a chemical engineer who assists in pyrethrum extraction (used to make organic insecticides), an airport engineer, and a man who works for General Tire.
Tonight we're going to auditions for the Christmas Pantomime at the Arusha Little Theatre. We expect to work behind the scenes and get acquainted for this one, then try out for the next play, which will be a musical.
Sure hope our air freight gets here soon. Those wool clothes we needed en route are no good in the southern hemisphere's summer.
[Be careful what you wish for: Once the shipment arrived, we spent several weeks wending our way through narrow paths among boxes piled high in our hotel room.]
November 18, 1973

We've just returned from Nairobi, where we had a four-day visit buying things not available in Arusha — a weird combo of stuff like chocolate, athletic supporters and toiletries. We even happened upon a ring-tennis ring.
[Nairobi, the capital of Kenya and nearest city, was four hours away by car from small-town Arusha and necessitated a border-crossing which was sometimes demanding.]
We didn't find a car tho. There's a shortage all over E.Africa, and we may not be able to buy a new one til around the first of the year. We looked at Peugeot, Land Rover, VW, Volvo and Audi. American cars aren't sold here. We may have to try for a 2nd-hand car from someone who's leaving after finishing his contract.
Just in the 2 weeks we've been here, we've realized a lot of things we should have brought; e.g., wash 'n' wear slacks, cotton shirts/blouses and knit tops for both of us. Dry cleaning is expensive and not very good. Nairobi shops have these sorts of things, but they're often imported and expensive. Once we move into our house, I expect to be doing some sewing.
We like it very much here and felt like we were coming home when we returned to Arusha.
November 27, 1973
Enclosed is a poop sheet about our brand-new Peugeot. The rear seat folds down to make a luggage space over 6 feet long, so we can sleep in there on safari if we need to. We've been advised that this is the best car for this country, combining comfort with ruggedness and high road clearance.
We hope to move into our house next weekend, if all goes well. That gives [EAC maintenance staff] one week to paint and fix up after the previous tenants leave. I'm looking forward to decorating with local fabrics, arts and crafts.
Russ may go to Khartoum in the Sudan next year to conduct a workshop in legislative drafting for the International Legal Center, and I'd be sent as well. We're both excited at the prospect. Khartoum is a bit like Samarkand — romantic and difficult to get to.
I've been approached to do some consulting for a local seminary and to help out at the school. I don't know if anything will come of this, but it's nice to be noticed.
We have such a busy social life that I'm feeling a need for privacy. There are so many parties and dinners and fetes that one needs to start picking and choosing. It's afforded us a wonderful opportunity to meet people, but I'm ready for a quiet Sunday afternoon for a change.
We went to see "There's a Girl in My Soup" at the Little Theatre, and it was among the best amateur drama I've seen. They really take it seriously and produce a play every 6 weeks. Rehearsals for the Christmas pantomime, "Snow White," are going well. Russ is the "Mirror, Mirror on the Wall" who talks back to the Evil Stepmother, and I'm one of the ladies-in-waiting who get up at the drop of a hat to dance the can-can (which I choreographed).
December 11, 1973
We moved into our house on Saturday, and on Sunday we received company from California on honeymoon in E. Africa. They went on a day trip to Lake Manyara with a local tour group yesterday. I'm anxious to hear what they saw. Manyara has the only lions in the world that climb trees. Tomorrow Russell's law school friend returns from her coastal sojourn for a second visit.
We'll take our friends to Arusha National Park for a picnic and game-viewing. The park has blinds where you can sit and watch the animals without them being aware you're present.
Luckily, our house comes furnished: 3 twin beds, a giant double bed, 2 chests-of-drawers, a mirrored bureau, vanity table, desk, 2 large utility tables (one in kitchen and one in the study, both of beautiful wood) 2 bookcases, Danish-style couch and 2 chairs, buffet, dining room table and 8 chairs, stove. We have to buy rugs (woven plant fiber), fridge, freezer and curtains as well as dishes, etc. We get the fridge duty-free as part of R's contract. We're also planning to supplement the living room furniture by having a banquette constructed, and I'll make one of those stuffed chairs from the Butterick pattern I brought from the States.
I spent all day yesterday in Arusha's shops and bazaars buying things we need to set up housekeeping, but I still have a long way to go. To give you an idea of my trek: open air market for dishes, glasses, knives (all pretty poor quality, mostly from China); Fatehali Dhala's for dry groceries, milk and tinned goods; green grocer for the obvious; bottlers for Pepsi, cherry soda and ginger beer — you buy it by the case and arrange to have your bottles refilled (there's a Coca Cola products outlet as well, but I didn't have time); basket market for wastebaskets; cloth merchant for curtains, slip covers, etc. Today, I want to see the foam merchant for pillows and the blanket merchant so we can get out from under our sleeping bags.
Also today, I'm collecting a Siamese cat. Because of the difficulties of shipping pets to the next post, everyone here passes them on when their two-year contract is over. We're also getting a Labrador puppy in a few weeks once he's weaned.
We're temporarily using the former houseboy, but he doesn't cook and is anxious to get home and buy a wife with his earnings.
[As I did then, I find the word "house
boy
" a distasteful term for a grown man, often middle-aged, with extensive skills and knowledge. But that was the term in use at the time, and the one they used to describe themselves, so I will leave it in these excerpts.]
I'm expecting our new cook today, but so far he hasn't shown. This may or many not mean something. Americans are the ones who are time-conscious. At any rate, we'll try him out. The only disadvantage is that he has his own shamba (farm/garden) with wife and kids, so he can't live on the property, a situation to be avoided because it's important to have someone here when we go on safari. Perhaps the man who'll care for the garden will live in the servants quarters, where we have room for two families.
You may think it's extravagant to have a gardener, but there's at least an acre of grass, trees and vegetables which require daily attention without the usual mechanical devices Americans take for granted. For example, the grass is cut by a sort of curved machete which is swung back and forth with great skill to arrive at just the right height. Our garden sports 3 shades of bougainvillea, 6 banana trees, countless plumeria, large succulents, oleander, many kinds of lilies, 2 poinsettia trees, assorted annual flowers, corn, cucumbers, tomatoes, radishes, carrots, beans and asparagus.
I find it easier to adjust to having servants than Americans might imagine. For many reasons. They're a window on the local culture and language. We have none of the conveniences available at home; everything is done by hand, including laundry. Whether gardener or houseboy, he's a professional at his job, as I am at mine. It would be impossible to function here without at least a houseboy, and in our case, we really need one who can cook as well, if I'm to be free to seek a job.
December 18, 1973
Chocolate may be nonexistent here, but we pay 3¢ each for giant avocados, have mangos for breakfast and bought an 8-foot Christmas tree which we chose, and they cut down, for $1.10. We plan to go to Nairobi next week, and I'll fill up on hamburgers, Chinese food and candy bars.
We're appearing in the Xmas pantomime every night this week, so you can imagine how busy we are. In addition, there're lots of Xmas parties. I'm trying to find time to make a couple long dresses. There's some lovely fabric here, much of it from India.
Most of our Xmas tree decorations will be homemade, using the cards we receive, origami animals, yarn, seed pods, matchbook covers, etc. The only decorations we were able to buy were produced by the ladies auxiliary at Christ Church and sold in their bazaar. We got two nice ones created of yarn.
I ordered a turkey for Xmas and we'll invite two bachelors to share it with us. No cranberry sauce, but I'll make a fig chutney. I've also found most of the ingredients for a fruit cake.
[That first Christmas dinner was full of challenges. The turkey carcass arrived with all pinfeathers and many quills still in the skin, as well as head and feet attached. When the time came to take it out of the oven, guests and hosts happily anticipating the tradition, we discovered that something had gone wrong with the bottled propane, and the bird was half raw. Good thing we had a canned ham.]
I heard about the possibility of two more job leads: one with a fellow who makes educational films in Nairobi and another with the UN-sponsored management training institute which is being set up in Arusha. I'll follow through after Xmas.
Meetra, our Siamese cat, is sitting by the typewriter, fascinated with all the commotion it makes. We were distressed when she got in a fight yesterday and came home to lick her wounds. She's not scarred for life, but she's a bit stiff and tender today.
We got our freezer hooked up, so now we can stock it. We've got 4 chickens and 4 fillets. The fillets aren't like what you get at home. All our meat has to be braised at a low temperature for a long time to make it chewable. However, we have wonderful fruits and vegetables, so it balances out. We're told the thing to do is go halvsies with someone, buy a beef, then slaughter and butcher it. Sounds interesting to me. I'll try anything once. I'll have to practice with my machete first (they call it a panga here).
Our cook has malaria, so we're trying to find a temporary one to fill in for the 1-2 weeks that he'll be out. We take our preventive pills like good children every Sunday.
January 2, 1974
We've signed up for a dozen eggs a week from an African lady up the road who raises chickens. I may end up getting 2 dozen with all the baking we do. We have an open-air market here like the one in Arusha, only smaller, so we get bananas, mangos and tomatoes nearby. There's also a duka (small shop) where I'm told you can buy things which are unavailable in town like sugar and flour.
The man I hired as cook got another job with shorter hours and closer to home, so we're back in the market for for one.
We've hired a wonderful gardener named Saidi. We expect to look like the Shamba of Eden in no time.
[After many false starts, our household-help problems were finally solved when bandy-legged Shabani arrived on our doorstep with a grin and a "chit" from a white hunter who was going out of business. Shabani was recommended as an all-around good "safari boy" who could cook, clean, wash clothes in a tin tub and press them to perfection with a charcoal iron. After a mutual trial of a month — with an electric iron — we agreed we liked each other, and the multi-talented Shabani, along with Saidi and their families, was with us until the day we left East Africa.]
January 13, 1974
I'm in the process of looking for jobs with some additional leads. I don't know if any will have an opening, but the projects sound interesting and right up my alley. Most are in Nairobi, however, so I might have to commute in some scheme. Now that our household is finally organized, I'm feeling under-stimulated and think the key to enjoying and profiting from the stay in Africa is to have a job, actually working within the culture and with the people whose country it is. We've seen too many bored, bitchy and depressed housewives to feel that status is viable or healthy. We expect to go to Nairobi sometime during the first two weeks in February for shopping, etc., so I've written letters and sent resumes to arrange interviews then.
The Little Theatre is doing "The Music Man" in March. The chorus has already started learning the songs. The director has asked me to be choreographer and stage manager, so I should keep pretty busy. In addition, they're after us to direct something ourselves, but I want to find out what's happening with my professional life first.
January 26, 1974
Just back from visiting Serengeti with two other families. Spectacular: saw all kinds of animals, including lots of young, in beautiful terrain. This is the best time to go, during the migration when thousands sweep across the plain. I feel sorry for the tourists who come thru on safari and don't get to see the Park as intimately as we did. I think many of these tours do a good job, but it's not the same thing as living there for 5 days.
We met Jane Goodall's husband, Hugo Van Lawick, while there. They make the National Geographic films about chimps, wild dogs, etc. He seemed very nice. He's doing research on predators near Lake Nduti to the south of Serengeti, while she remains at Gombe Stream Reserve on Lake Tanganyika to continue her work with chimps. Their separation will last about 8 months, so if I have to take a job in Nairobi, there's precedent.
We've begun character auditions for "The Music Man." Russ will play Harold Hill's sidekick, singing "Shipoopi." Performance is mid-March.
February 1, 1974
Ralph Roister Doister, the black Lab puppy, has been with us for about a week. We've rolled up all the fiber rugs while he learns to go outside (makes it about 50% of the time). Our painted concrete floors allow for minimally damaging dog-mess. R&I take turns throwing Ralph's ball, pulling him around on his blanket and holding an old sock so he can tug on that instead of the curtains. He follows us constantly, even lying down under the toilet until we finish our business. Meetra has tolerated him from the beginning, and they even play some.
I'm finally having good news on the job front. I had two positive interviews this week. The first was with the Lutheran church here, which has an extensive A-V program to back up their endeavors in education, medicine, nurturing African church music, etc. They're also going to make a 45-minute film for foreign audiences about these efforts. The American missionary with whom I interviewed said he would make every effort to get me on their team, a result that requires all sorts of people to say it's okay and then finding money to finance it.
It took another two months (almost a half-year from when we arrived in Arusha), but I finally landed the job with the Evangelical Lutheran Church in Tanzania. ELCT was going through a significant transition from being missionary-dependent to handing over responsibility to African staff. Over the course of the next 18 months, I would travel all over East Africa, scouting locations, researching content and writing the script. But that's a story for another post. Or two.
* * *
If you enjoyed reading this post, I hope you'll SUBSCRIBE by clicking on the button below. Every month, when I post a new excerpt  from my life overseas, you'll get an email with a link so you can read the next installment. Subscription is free, and I won't share your contact information with anyone else. Your subscribing lets me know you're reading what I write, and that means a lot.